Jay Gooding is carrying a range of emotions into the start of his first season as the head coach of the Orlando Storm. He is enlivened by the prospect of coaching and working with some of tennis' best players once again, something he hasn't been able to do often since the sport's top-tier tours shut down in March.
But Gooding acknowledged Tuesday that he is also "a little anxious regarding the health of the world at the moment."
::Orlando Storm 2020 Schedule ::
On July 10th, Gooding arrived at The Greenbrier in White Sulphur Springs, West Virginia, where every match of World TeamTennis' 45th season will take place. The players and coaches will be given a coronavirus test upon their entrance into the WTT bubble, and with numerous protocols set in place, Gooding is hopeful that this season can proceed without any complications. The Storm will be a part of the league's first match, which is scheduled for Sunday at noon versus the Springfield Lasers. It will be broadcast on ESPN 2 and WatchESPN.com
"I'm sort of quietly optimistic that we can sort of get through this unscathed," he said. "I really hope it does because I think it can help the rest of the tours and the tennis world. If we — and by 'we' I mean the World TeamTennis Organization — can get the event started and finished with no casualties, I think that could be a very positive sign. I'm trying to be optimistic about it."
When the conversation turns to on-court matters, there are plenty of reasons for Gooding to be optimistic. The Storm, in their second season of existence, feature an enviable blend of talent and experience.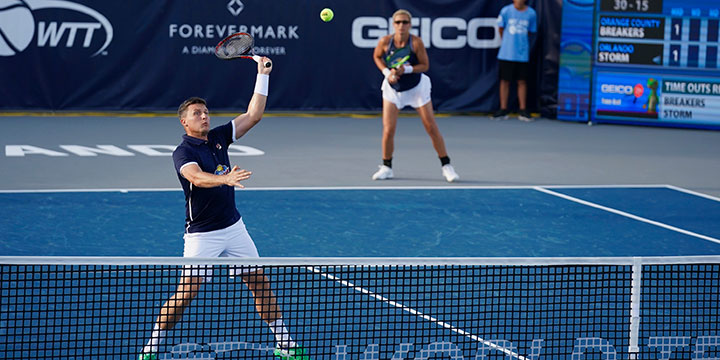 Danielle Collins, whom Gooding has coached since last year, is perhaps the face of the franchise. An NCAA singles champion at the University of Virginia in 2014 and 2016, Collins reached as high as No. 23 in the WTA rankings last year. Her 2020 season featured victories over three top-15 opponents, including a 6-1, 6-1 dispatching of No. 5 Elina Svitolina on Jan. 6.
Collins defeated a former No. 1 player, Victoria Azarenka, last month at the Credit One Bank Invitational in Charleston, South Carolina. Gooding was in attendance for that tournament, and he knows that despite the long layoff, his pupil has been keeping her game sharp.
"The thing with Danielle is she's very self-motivated," Gooding said. "She's been physically working hard during this downtime since the tour has been closed. She has been getting as much on-court time as possible. Yeah, she's motivated. She wants to continue to work, she wants to compete, she wants to play, she wants to get better. It's a pleasure to work with her."
Collins played just one match with the Philadelphia Freedoms in her inaugural season in the WTT last year. She told WTT All-Star Ryan Harrison in May that she was "bummed" about not being able to play more, so when she was invited back in 2020, she jumped at the opportunity.
"I was like, 'Yes, 100%,'" Collins recalled. "I thought it was going to be so much fun. … Now with no tournaments going on, I think it's going to be super exciting that we'll be one of the first sporting events that starts again."
Jessica Pegula is another member of the Storm who was champing at the bit to get involved with WTT. Although she is a league rookie, she has been trying to get on to a squad for the past couple of years. However, travel restrictions or injuries always seemed to impede her path. Now she is ready for WTT's unique brand of tennis, one in which a match consists of five sets, one for each of its five playing disciplines: women's singles, men's singles, women's doubles, men's doubles and mixed doubles.
Pegula says preparing to play perhaps only one first-to-five-games set is different from preparing for a standard three-set match on the WTA Tour.
"You have to be ready to go from the start and you have to ready for kind of anything," she said. "I think it's good to get you going right off the bat because you don't really have a choice. It also still puts you in those pressure situations which, when we're all playing practice sets and matches, we're all trying to recreate. I think it's as close as you can get to playing an actual WTA or ATP match, pressure-wise."
Pegula claimed her first WTA title in. Aug., which vaulted her up to No. 55 in the rankings. She also reached the finals of the ASB Classic in Jan., besting the former No. 1-ranked Caroline Wozniacki along the way.
But Pegula isn't only valuable in singles action; she has more than 200 doubles matches to her credit and said she will be raring to go for whatever Coach Gooding asks of her.
That versatility is another quality the Storm posses in spades. Gooding said both Collins and Pegula as well as 33-year-old Brit James Ward could all be called upon for singles or doubles matches. Tennys Sandgren is the Storm's most accomplished male singles player, is currently ranked No. 55 in the world and was an Australian Open quarterfinalist this year. But he too has plenty of doubles skill. This presents a problem for Gooding, but a nice one to have.
"I think it's great," he said of his roster's flexibility. "It sort of puts me in a tough position because I do have those options now, and I know that they are all going to want to play."
Ken Skupski knows exactly when it's his time to shine. He is a doubles specialist who advanced to the quarterfinals at this year's Australian Open and to the same round in both doubles and mixed doubles at Wimbledon three years ago. He sits at No. 51 in the ATP's doubles rankings and was the third-most successful men's doubles player during the 2019 WTT season among qualified players, winning 52.6% of his games.
Skupski and Darija Jurak are Orlando's lead veterans in multiple respects. Not only are they the team's most experienced players at 37 and 36 years old, respectively; they are also the only returning members from the Storm's 2019 expansion campaign.
Jurak made her first appearance on the WTA Tour 20 years ago and has competed in more than 900 doubles matches. She is ranked No. 35 in women's doubles and has six WTA and 35 ITF titles to her ledger.
Now it's up to Gooding to make all of these pieces fit. While he and everyone else hopes this WTT season goes off without a hitch, the Storm will try to create a special season out of this unique situation.
"I feel like we have a really solid team," Pegula said. "… I think we're feeling good. Hopefully, we can make that work throughout the season."
World TeamTennis 2020 At The Greenbrier
Center Court at The Greenbrier