WHITE SULPHUR SPRINGS, W.Va. — The 2020 season officially began on June 12th at noon ET with Springfield's Mitchell Krueger serving to Orlando's Tennys Sandgren. When Krueger netted his first serve, his teammate Hayley Carter leapt up to grab the ball.
With no ball persons or lines people hired for the event, the new ball persons on the first day included Caty McNally, Rajeev Ram, Eugenie Bouchard, Kristie Ahn, Sloane Stephens, Sam Querrey and more.
"I enjoy the electronic line calling. I thought it was awesome to have out there, great innovation," Sandgren said. "I'm used to playing [ITF] Futures where there's no ball kids so not much of issue for me."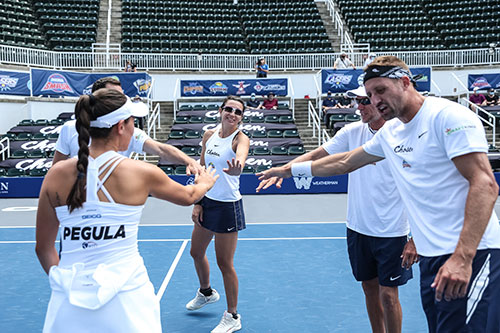 WTT co-founder Billie Jean King is famous for winning Slams, fighting for equality and solving problems. Problem solving has been a big theme for the 45th season as CEO Carlos Silva has navigated through challenging months to make it to opening day on Sunday.
A global pandemic is a very, very big problem to solve.
"We are very happy with what we have done, but also know every single day we need to be diligent, as we have been over the last couple of months," Silva said. "So yes, it has been a long road, and we are never out of the woods until a team holds the King Trophy on August 2, live on CBS."
Anyone that's spoken with King likely heard one of her famous pieces of advice: "You have to be able to problem solve to get anywhere in life."
"The very first thing she ever told me was you can do anything you want in this business, but if you're not a problem solver, you're really not going to go very far," said Orlando Storm general manager Melissa Apulche.
The first match of the day got to debut all of the hard work. Orlando Storm would beat the Springfield Lasers 21-19 in Extended Play with Sandgren earning Player of the Match honors after winning three of the five sets.
Since physical contact on the court is discouraged, elbow bumps have become standard and players debuted coordinated foot taps and racket fives — which is where one partner extends a racket face and the other taps the strings.
"We had to figure out who was going to be hitting the strings and who was going to be presenting the strings," Sandgren said. "We went racket to racket the first few times and that's not a sustainable way to do it. That was the most problem solving we had to figure out."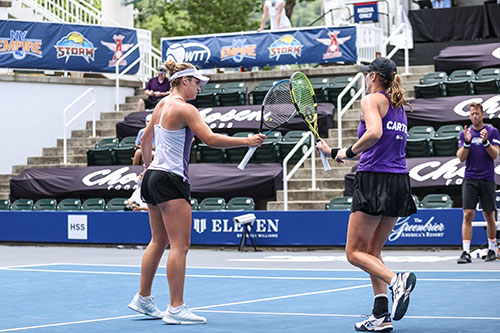 All of the trickier problem solving began many months ago. The earliest problem for WTT was choosing one location. With appealing venues in multiple states, Silva ultimately settled on The Greenbrier in West Virginia, largely for the fan allowance. The stadium is limiting fan capacity to 500 (or 20 percent capacity) with spacing between seated groups as well as mandatory masks and temperature checks at the entrance.
"We worked extremely hard to try and find the right place to bring all nine of our teams to a safe environment, so we could have our season," Silva said. "I am also excited that we have a world-class medical clinic here on site, and The Greenbrier staff has been very helpful.
"I think we have put up a set of guidelines that are simple, that are smart, and that makes sense."
Hours of labor went into setting up the Creekside Stadium, building an indoor stadium in the indoor facility, resurfacing the new Temp Gillespie Memorial Tennis Courts for practice, and organizing hotel rooms, meal plans, laundry services, transport and setting (and resetting) safety protocols.
The result is that The Greenbrier has transformed into a quarantine bubble for 175 staff, coaches and players.
"It's really nice," said Chicago Smash's Brandon Nakashima. "It's my first time being here. Obviously, it has a lot of history. It's a great place, great for tennis and I'm really looking forward to staying here for three weeks."
The 18-year-old rookie would be the Player of the Match for Chicago's 24-18 Extended Play win against Las Vegas. He beat Querrey in singles and teamed with Ram to upset Mike and Bob Bryan.
While the coronavirus problem is technically impossible to solve, staff and players are doing everything possible to minimize risk. That means testing, and a lot of it: before travel, upon arrival and after one week. The process required intense coordination and on-site testing at the Sports Performance Center.
Anyone that hasn't received a negative test from their on-site test cannot appear on court. By game time on opening day, four participants were sidelined including Orlando Storm's Ken Skupski, Chicago Smash's Evan King, Springfield Lasers' coach John-Laffnie De Jager and San Diego Aviator's coach John Lloyd.
Rules can be changed or added, even on a day-to-day basis. No staff or players are allowed in the resort's casino. Masks are required in the hotel and also on the "commute" (five-minute walk) to "work" (the stadium). Initially, masks were not going to be required for spectators outdoors and were going to be required for players on the bench, but those rulings were reversed.
It's not a deterrence, as fans showed up on Sunday.
"It was awesome to have some people out there to get behind good tennis," Sandgren said. "It was nice to have. It made hitting good shots a little bit more fun."

WTT Today: Day 1
Nina Pantic is a tennis writer, editor, podcast host and content producer. She played collegiate tennis at UCLA. You can follow her on Twitter at @NinaPantic1